Industry's Choice Award + Paper Plane Competition
Posted on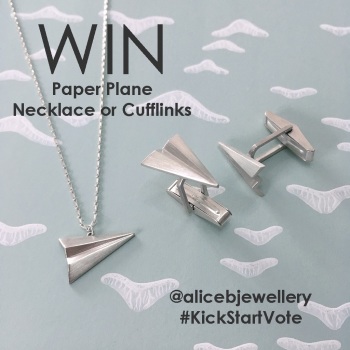 Win one of these cuties by voting in the #KickStartVote! I'll be exhibiting at International Jewellery London with 9 amazing emerging makers this September, but only ONE of us can return in 2018 with a free stand. Help me try to get there by voting & you'll be entered into my prize draw!
All you have to do is comment on whether you'd like to receive the Paper Plane Necklace or Cufflinks, then make sure you vote via this link: https://www.jewellerylondon.com/Whats-On/KickStart/
You can also vote by posting on social media using #KickStartVote & mentioning the name of who you're voting for. Hint: please pick me!
Boring stuff:
Competition closes at 5pm GMT on 29th July. Entries will be pooled from social media & emails & one winner will be chosen at random to receive a Paper Plane Necklace or a pair of Paper Plane Cufflinks. The winner will be notified by 30th July latest & will receive their prize within 5 working days. Both the necklace & cufflinks are hallmarked sterling silver.